My Story
While I have hunted all my life, good quality knives have not always been readily available. After searching for an exceptional hunting knife in every retail store in my area that handled sporting knives, I finally gave up and decided to try and make my own.
My Grandfather was a blacksmith and made knives out of necessity, my Father made a few knives for use around our home but my Uncle was an avid hunter and made many knives suitable for that purpose as well as utility type for use around the kitchen.
In 1965 I approached my Uncle for his assistance in building a quality hunting knife. Little did I know at the time that it would be the beginning of a lifelong hobby. For the most part I use RWL34, CPM154, CPM S30V, 154CM, ATS 34 and 440C as well as some D2 and O1 for my blade steel. My objective is to build top quality models which I have personally field tested for durability, edge retention and functionality.
Thank you for visiting my web site. Contact information can be found on my Contact Page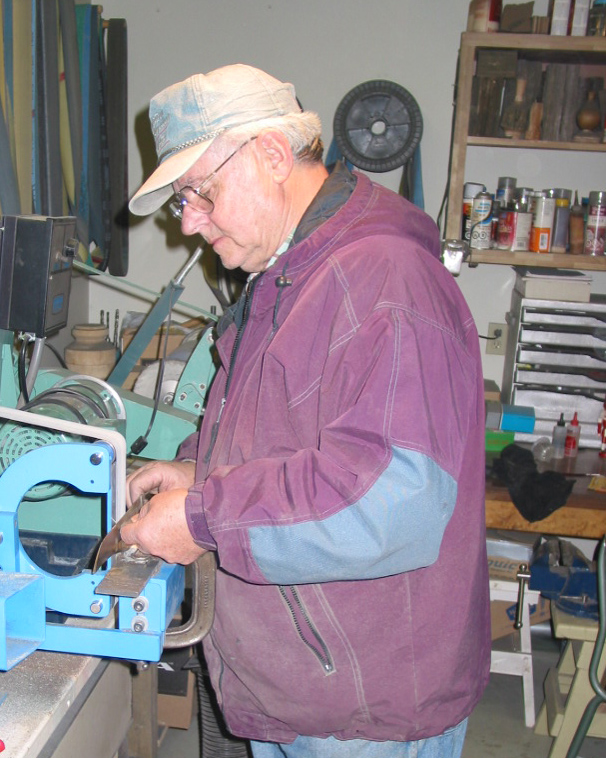 My Knives
To demonstrate the high quality craftsmanship that I strive for I have assembled a Gallery to showcase some of my hand crafted knives.
While it is not practical to show all the models that I have made in the past I have listed some of my favorite ones. For handle material I occasionally use stabilized giraffe bone scales. Stabilized Maple Burl makes very attractive handles and the various Micarta products make great handles. I prefer not to use deer, elk or moose antler because unless it has been stabilized it generally warps as it dries and ends up causing me a problem.
My preferred choice of steel is High Carbon Stainless Steels which through field testing have proven to hold a very keen edge, suitable for the most avid big game sportsman.
The amount of time to complete a knife varies depending on the steel and handle material used as well as whether the blade is hollow ground or flat ground, mirror polished or hand rubbed. File work also adds to the overall appearance. I prefer the challenge of hollow grinding the majority of my knives, flat ground blades take less time to make and are generally used for Kitchen Knives and Filleting Knives.
The blades generally average between three and four inches although the blade length can be adjusted. My personal preference is a three and a half inch blade. Each knife is fitted with a hand stitched 8-9 oz. cow hide sheath, either horizontal or vertical carry.